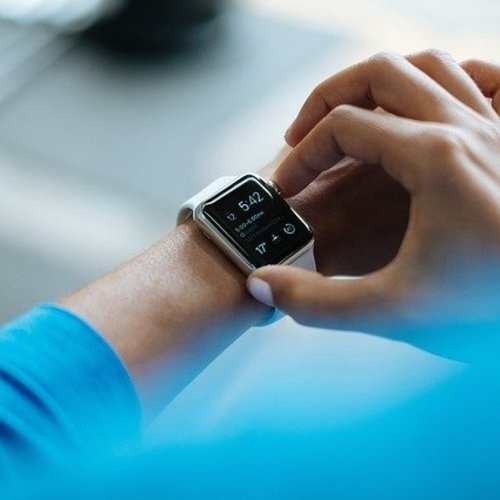 Shop our Smartwatches and Wearable Accessories
Wholesale of smartwatch and wearable accessories
Welcome to Colorfone, your trusted wholesaler!
What is a smart watch
A smartwatch is like a watch that tells the time, but has a number of other functions. A smartwatch is similar to another electrical device that everyone has, a smartphone. A smartwatch can have useful functions such as a camera, GPS system, touchscreen and various measuring instruments. By linking your smartwatch to your smartphone, you can even receive notifications on your smartwatch! You can also use the smartwatch to control other devices. The smartwatch uses Bluetooth, WiFi and GPS.
Advantages of a smartwatch
In addition to its luxurious appearance, a smartwatch also brings many advantages. A smartwatch offers many more functions than just a fitness tracker. This way you can receive notifications from your phone on your smartwatch. Plus, you can even use your smartwatch to respond to messages and phone calls!
Since 2019 it is possible to pay contactless with the smartwatch. No need for a card or PIN anymore. Most banks in the Netherlands support this function, but check with your bank whether this is possible.
You can also easily control music and videos via your smartwatch. You can manage the music that is played via your mobile on the smartwatch. So you can easily adjust the volume, pause, resume and switch tracks.
Many smartwatches now also have the extra functions to monitor your health. With the smartwatch you get more insight into your sleeping pattern, you can keep track of whether you move enough and measure your heart rate.
Are you a reseller? Are you interested in adding smartwatch accessories to your inventory?
Then Colorfone is for you! We have been in business since 1998 and distribute smartwatch products throughout Europe. With us you buy safely and quietly with fast delivery! At Colorfone you will find a wide range of smartwatch accessories such as replacement bands and tempered glass covers for the Apple Watch.
View the range and choose from the different types of smartwatches, Apple Watch bands and smartwatch chargers. We also have wireless chargers that allow you to charge your mobile phone and your Apple Watch at the same time.
Are you also interested in smartwatches such as the Mi Band or the Amazfit Bip up?
Colorfone sells high quality smartwatches throughout Europe at super affordable prices. Get our Amazfit Bip U and Mi Smart Band 5 smartwatches to track sleep, physical activity and keep yourself updated with your cell phone notifications.
Our smartwatches are waterproof so you can wear them anytime, even in the shower or while swimming.
Are you interested in dropshipping?
Are you looking for a smartwatch provider that does dropshipping to help you start your business without having to keep your products in stock? Contact us and we can give you more information about dropshipping. With Colorfone you can easily start your e-commerce business without having to invest in the products first. If you want to become a smartwatch reseller, contact us and we will explain how your customers can order from your webshop and how we ship directly from our warehouse!
Become a Colorfone dealer and add color to your online business!
Read more