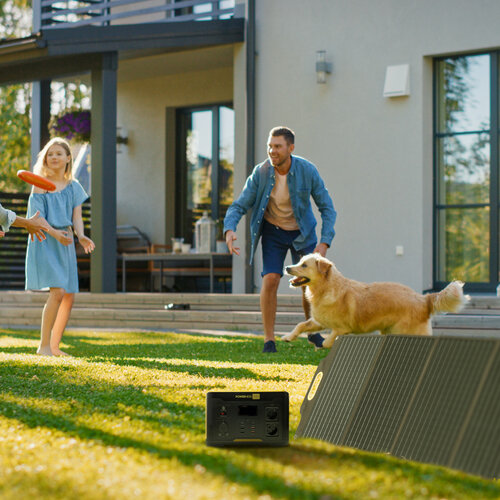 Portable Energy
Wholesale Sustainable and Portable Energy Solutions
Are you looking for high-quality portable energy solutions for your customers? Search no further! Our wholesaler offers an extensive range of sustainable and portable solar panels and power stations for energy storage. As a supplier of wholesale renewable energy products, we are proud to contribute to a greener future.
Our Sustainable Mission
At our wholesaler we have a passion for sustainability and we want to accelerate the transition to clean energy. Our mission is to make high-quality sustainable energy solutions accessible to everyone. Whether for outdoor adventurers, travelers, emergency supplies, or even everyday use, our portable solar panels and power stations are designed to meet diverse needs.
Sustainable Energy: Portable Solar Panels
Our portable solar panels are a smart choice for anyone who wants to enjoy green energy on the go. These panels are compact, lightweight and easy to carry, making them perfect for camping, hiking or even boating. Thanks to advanced solar energy technology, our solar panels provide efficient and stable energy generation, even in low-light conditions. With various sizes and powers available, you can easily meet the specific needs of your customers.
Power Stations for Energy Storage
Our energy storage power stations are a versatile and powerful solution for holding renewable energy. These portable units combine battery storage with integrated inverters, making them a reliable source of electricity. Our power stations can be charged via solar panels, sockets or even with a car charger. This makes them ideal for use in remote areas, on construction sites, during emergencies and as a backup. In addition, we offer a range of models, from compact units to larger capacities, to meet the unique needs of your customers.
Why Choose Our Wholesale?
Quality and Reliability : Our sustainable energy solutions are manufactured to the highest standards, using the latest technologies and materials. This ensures reliable performance and a long service life.

Diversity in Supply : We offer a wide range of products, including portable solar panels and power stations with different capacities and functions. This allows you to meet the diverse requirements of your customers.

Environmental awareness : Our sustainable energy solutions contribute to the reduction of CO2 emissions and promote a greener planet. By choosing our products, your customers contribute to a more sustainable future.

Professional Support : Our expert team is ready to support you with your orders and answer any questions you may have. We strive to provide you with the best possible service.
Contact Us Today!
Ready to expand your range with sustainable energy solutions? Contact our wholesaler today and find out how we can help you. We offer competitive prices and fast deliveries so you can quickly meet your customers' needs. Choose our wholesaler and make the transition to a greener and more sustainable future!
Read more