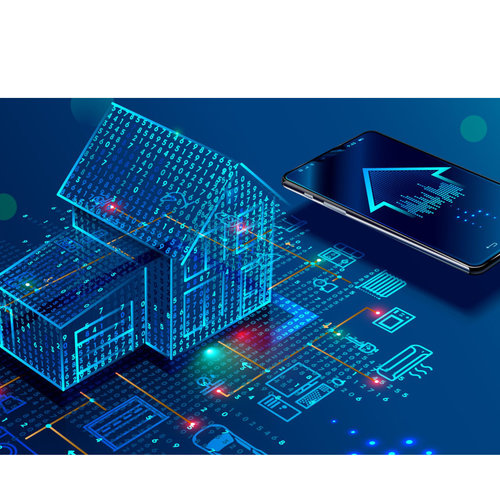 Smart Home devices
Wholesaler of Smart home products
We have smart home products in all shapes and sizes. The supply and demand of smart home products continue to rise!
Energy
One of the most used smart home products are smart thermostats to get an overview of energy consumption at home and to manage the temperature within the house remotely. Many smart thermostats can even display costs.
Appliances
Devices that we use daily or weekly are of course extremely interesting for the smart home industry. Smart home products such as vacuum cleaners, kettles and coffee machines are now also offered with a smart function.
Alarm systems and sensors
Sensors can be placed anywhere inside and outside your home for different purposes. For example, you can unlock the door when you are near the door or the garage door can open automatically when you drive up. This system is of course also ideal for keeping intruders out of the house and warning you in time of any dangers.
Relief
Smart home products for your lighting has also become very popular in the Netherlands. For example, you can easily control the color or strength of the lighting yourself and it can even be connected to a smart assistant, such as Alexa or Google Home. You can then easily operate your smart home products via voice.
Future of smart home products
The smart home category will continue to develop and the demand for smart home products will certainly grow. We are very curious what new smart home products will surprise us. Colorfone will keep abreast of the new smart home products and will offer them if there is a market for them!
Wholesaler and distributor of accessories to make your home smarter
Welcome to Colorfone!
Our collection of accessories and smart products will change your customers' lifestyle. Today, there are many tools and gadgets to make your daily life much easier and "smarter". Check out our catalog to find out how you can make a home smarter! In our webshop you will find a wide range of products! From smarter to less smart products that will definitely make your life easier. We have many smart home accessories such as wifi smart socket, switches and smart led bulbs .
At Colorfone we always want the best for our customers. With this in mind, we decided to help retailers offer the most demanded products on the market. In fact, smart products are in high demand all over the world. According to Statista.com, the percentage of homes with smart products will reach 12.2% in 2021 and reach 21.4% in 2025. Interesting right?
Don't wait for the competition to beat you! Contact us now or register to see the prices of smart products.
If you prefer to call us for a conversation, we would be happy to have a pleasant conversation and get to know our customers better. Do you have any other questions? Would you rather send us an email? Here is our address: [email protected].
Still wondering why you should invest in IoT or smart home products? Because it's SMART !
It will make your life easier every day! Did you know that with a smart home you can monitor the consumption and safety of your house or apartment? Not to mention the peace and comfort that a smart home can offer you... How many times have you asked yourself "have I turned off the lights?", "What temperature have I set the radiators to?". How often have you wished you had a butler to prepare coffee or tea for you? Well, with smart home devices you can do this and much more! On our website you will find various devices that you can easily operate remotely. Lots of comfort that will enhance your lifestyle!
So… get your new smart lifestyle with Colorfone. What are you waiting for?
Read more