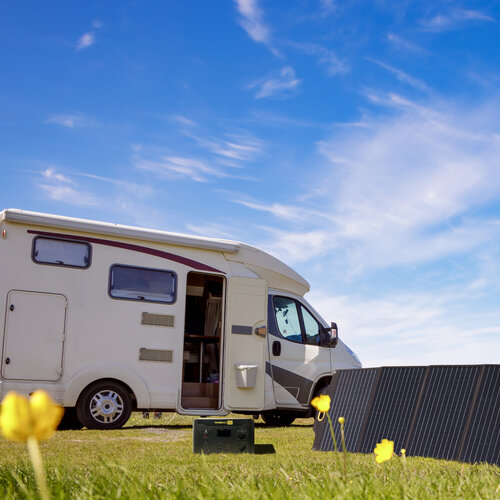 Generate energy
Generating Sustainable Energy: Welcome to the World of Sustainable Energy
At a time when sustainability and green energy are high on the agenda, generating renewable energy is a crucial step towards a more environmentally friendly future. At our wholesaler, we believe in the power of sustainable energy solutions and are proud to offer high-quality portable solar panels. Discover with us the many advantages and possibilities that these innovative solar panels offer to generate sustainable energy.
The Sustainable Benefits of Portable Solar Panels
Portable solar panels are a revolutionary solution for generating sustainable energy, both at home and on the road. These compact and lightweight panels are designed with portability and ease of use in mind, making them perfect for people who are always on the move. Here are some of the key benefits of our portable solar panels:
1. Environmentally friendly: By using solar energy, a clean and renewable source, portable solar panels contribute to reducing CO2 emissions and avoiding harmful by-products. They are a sustainable alternative to traditional energy sources and help reduce our carbon footprint.
2. Mobile and Versatile: Portable solar panels are designed to be easily transported and can be installed anywhere there is sunlight. They are perfect for camping trips, hiking trips, boat trips, festivals and other outdoor activities. In addition, they can also serve as a backup power supply in case of emergency.
3. Independence from the Grid: Portable solar panels allow users to become self-sufficient when it comes to energy generation. They provide the freedom to explore remote areas without being dependent on the power grid.
4. Charging Devices Anywhere: With built-in USB ports, portable solar panels can directly charge electronic devices such as smartphones, tablets, power banks and other gadgets. This is useful for people who are constantly on the go and need to power their devices.
Applications of Portable Solar Panels
The versatility of portable solar panels makes them suitable for various applications. Here are some examples of how these solar panels can be used:
1. Camping and Travel: Use portable solar panels to make your camping holidays and travel more sustainable. Charge your electronic devices, illuminate your tent or caravan and enjoy power on the go.
2. Emergency Facilities: In case of power outages or emergency situations, portable solar panels can act as a reliable source of energy. Keep important devices charged and provide essential power during emergencies.
3. Outdoor events: Are you organizing an outdoor event or festival? Use portable solar panels to power electronic equipment, lighting and sound systems without relying on the grid.
4. Off-Grid Projects: For research projects, science missions or remote construction sites, portable solar panels can be a reliable and convenient source of energy.
Conclusion
At our wholesaler we are proud to offer sustainable energy solutions such as portable solar panels. These innovative and environmentally friendly panels offer a range of benefits and applications, making them a smart choice for anyone who wants to contribute to a greener future. As a wholesaler, we are committed to providing our customers with high-quality products and excellent service, so that they can enjoy the benefits of renewable energy generation wherever they are.
Are you interested in our portable solar panels? Contact us today to learn more and find out how you can provide your customers with powerful and portable renewable energy solutions.
Read more