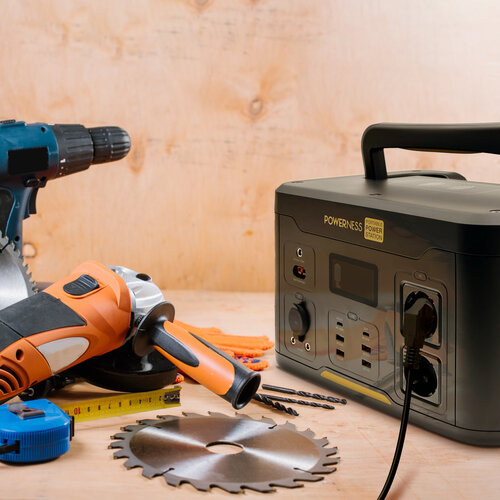 Energy Storage
Sustainable Energy Storage: Discover the Power of Portable Powerstations at Our Wholesale
In today's time, where sustainability and green energy are a priority, storing renewable energy is crucial to ensure a reliable and environmentally friendly power supply. At our wholesaler, we believe in the power of sustainable energy storage and are proud to offer high-quality portable power stations. Discover with us the many advantages and possibilities that these innovative power stations offer to store sustainable energy.
The Benefits of Sustainable Energy Storage
Portable power stations are a revolutionary solution for storing sustainable energy in an efficient and convenient way. These versatile units combine advanced battery technology with inverters, providing a reliable and mobile energy storage solution. Here are some of the key benefits of our portable power stations:
1. Environmentally friendly: By storing renewable energy such as solar or wind power, portable power stations can help reduce dependence on fossil fuels and reduce greenhouse gas emissions. They contribute to a cleaner and greener planet.
2. Mobile and Versatile: Portable power stations are designed with portability and mobility in mind. Thanks to their compact and lightweight design, they can be easily carried to different locations such as camping trips, boat trips, festivals and outdoor activities.
3. Independence from the Grid: Portable power stations allow users to store their own energy and reduce dependence on the grid. This provides a sense of independence and security, especially in remote areas or in the event of a power failure.
4. Emergency Facilities: In emergency situations, portable power stations can act as a reliable backup. They can power essential devices such as lighting, communications and medical equipment during power outages.
Applications of Portable Powerstations
The versatility of portable power stations makes them suitable for various applications. Here are some examples of how these power stations can be used:
1. Outdoor Adventures: Use portable power stations while camping, hiking or boating to charge electronic devices, power LED lights and even power small appliances like mini fridges.
2. Festivals and Events: For outdoor events and festivals, portable power stations can act as a sustainable and reliable source of power for sound systems, lighting, charging stations and more.
3. Building and Construction Sites: In remote construction sites or construction projects without access to the electrical grid, portable power stations provide a practical and temporary energy storage solution.
4. Emergency and Disaster Relief: Portable power stations are a valuable asset to disaster relief, as they can help charge communication equipment, lighting and medical equipment in emergency situations.
At our wholesaler, we are committed to providing sustainable energy solutions, such as portable power stations, that contribute to a greener and more sustainable future. With their mobility, versatility and eco-friendly features, portable power stations are a smart choice for anyone looking to reap the benefits of sustainable energy storage wherever they are.
Are you interested in our portable power stations? Contact us today to learn more and find out how you can provide your customers with powerful and sustainable energy storage solutions.
Read more