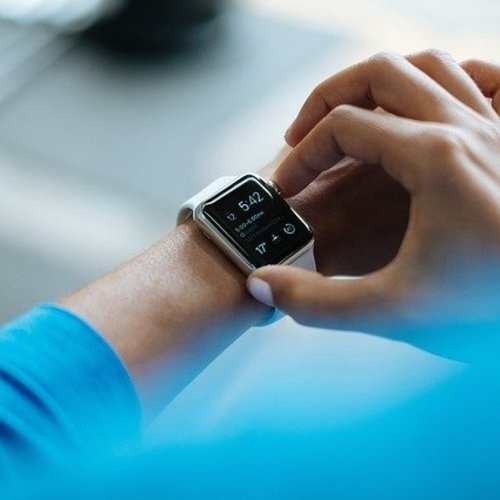 Shop our Smartwatches and Wearable accessories
Wholesale of wearables and audio accessories
Buy wearables and audio accessories? At Colorfone you have come to the right place. Our wholesaler offers a wide range of wearables such as:
Apple AirTag accessories
Apple Watch bands
Apple Watch screen protectors
Smartwatches from Haylou and Xiaomi, among others
Smartwatch charging stations
Xiaomi Mi Band straps and accessories
Apple Airpod and Airpod Pro cases
Smart speakers and Portable Speakers
Earplugs and Earbuds
Nowadays we use our phone and phone accessories as an extension of ourselves. It's very common to make a call via your watch, or talk to your Google Assistant or Alexa to play nice music on your smart speakers. All these telephone and voice extensions are listed in a handy overview in the wearables category.
Apple AirTag accessories
Nowadays everyone knows the Apple AirTag, comparable to the Tile for Google Android, these handy devices ensure that you can always find your things (or children). With our key rings you can easily attach them to a bunch of keys or school bag.
Apple Watch bands and screen protectors
The Apple Watch is probably the most famous wearable, for eight generations these smart watches have become an important part of the Apple HomeKit ecosystem. All Apple Watches have a similar connection system and the straps are therefore also compatible with different models. A distinction is made between two sizes of watch cases. The wearable straps for the 38mm, 40mm and 41mm watch cases are compatible with each other and the straps for the 42mm, 44mm and 45mm watch cases are compatible.
When choosing a screen protector or anti-shock protective cover, the size of the watch case is decisive, we offer various products belonging to the 40mm, 44mm, 41mm and 45mm watches.
Smartwatches and fitness trackers
Since 2019 it is possible to pay contactless with the smartwatch. No card or pin code is needed anymore. Most banks in the Netherlands support this function, but please check with your bank whether this is possible.
You can also easily control music and videos via your smartwatch. You can manage the music that is played via your mobile on the smartwatch. This way you can easily adjust the volume, pause, resume and change songs.
Many smartwatches now also have the extra functions to monitor your health. With the smartwatch you get more insight into your sleeping pattern, you can keep track of whether you exercise enough and measure your heart rate.
Apart from the well-known Apple Watch, there are also specialized smartwatches and alternatives to Android, for example, view the possibilities of Haylou's fitness trackers!
Smart watch chargers
One of the most annoying things is owning a smartwatch and having trouble charging it. Not all devices still work on USB C (in the future, by the way). A nice solution are the wireless charging stations from Choetech. These charging stations use a technology called MagLeap and are therefore in principle suitable for all iPhones from the iPhone 12 series and all Apple Watch wearables.
Xiaomi straps
In addition to Haylou and Apple, Xiaomi is also a well-known player in the smartwatch system. Xiaomi has both real smartwatches and simpler fitness trackers such as the Mi Band. We offer beautiful silicone straps for the fitness trackers. Buy them today at Colorfone!
Apple Airpod cases
Apple's well-known Airpods are great earbuds and have been very popular from the start. Apple has both the Airpod Pro model that, like earbuds, has a silicone earplug. The classic Airpod falls into the ear cup. We offer different covers from Devia for both models. Match these cases with the accessories for the AirTag and the iWatch!
Portable speakers and ear buds
One of our newest additions to the range are the speakers and earbuds from Awei. This brand is known for high-quality products at competitive prices. All devices are equipped with the latest Bluetooth versions, large capacity batteries and of course USB C charging connections.
Are you a retailer? Are you interested in adding wearable accessories to your inventory?
Then Colorfone is for you! We have been active since 1998 and distribute wearables and audio accessories throughout Europe. With us you buy safely with fast delivery! At Colorfone you will find a wide range of smartwatch accessories such as replacement straps and tempered glass covers for the Apple Watch. View the range and choose from the different types of smartwatches, Apple Watch straps and smartwatch chargers. We also have wireless chargers that can charge your mobile phone and your Apple Watch at the same time.
Read more