The world of the Apple Watch band is a wide, open space filled with a huge number of options. If you are helping your customers to look for the best Apple Watch band for them, it might be a difficult task. As with any watch, something like an Apple Watch Band can be a deeply personal choice. It can also be the beginning of a collection, as people will use different bands for different occasions. Even then, people often ask the band to meet various criteria, such as comfort, looks, durability etc.
Besides the abovementioned, it is also important to know the size of the wrist to ensure a nice fit of the Apple Watch. Generally speaking, a small wrist is 5 - 6.5 inches and a large wrist is between 7 - 8.5 inches, but good thing is that many Apple Watch bands are adjustable. Just don't go too tight or too loose, as it might affect the accuracy of the Apple Watch's many sensors.
Apple Watch bands are often categorized by the material as well. Have you ever wondered which material is the best for an Apple Watch band? Which one is the most comfortable? Durable? Stylish?
Leather
Leather bands are probably the most common in the traditional watch industry. The material maintains its superior position in the smartwatch realm, mainly because of its comfort and excellent quality. They are made of skins from cattle hides, goats, and other animals. Leather is therefore undoubtedly skin-friendly.
However, there are also some downsides of the leather bands. If you've ever used a leather watch strap or belt, you know how ugly it can turn after some time. It discolors, rips, and cracks as it ages. Leather can also absorb sweat and dirt, this will prevent it from breathing in the long term.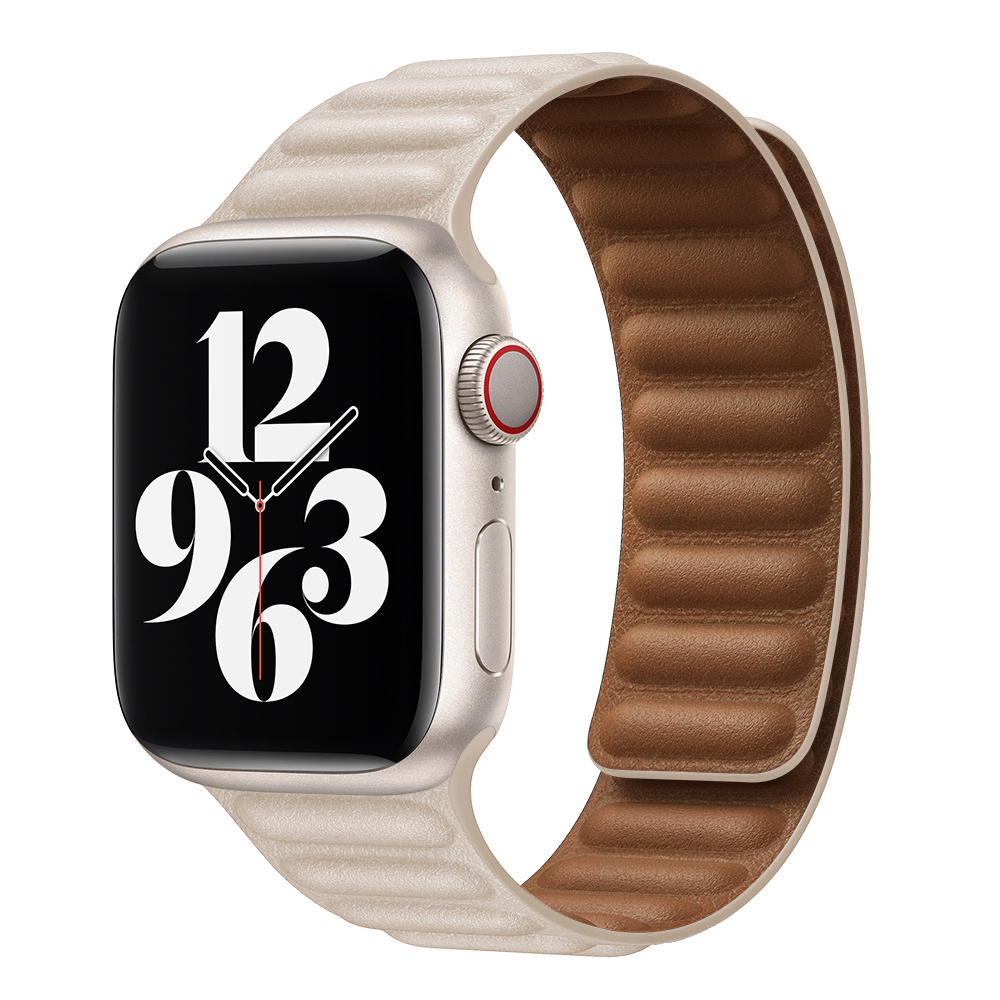 DEVIA APPLE WATCH TWO-TONE LEATHER STRAP 42/42/45MM STARLIGHT
This Apple Watch band is made of leather material and gives your everyday Apple Watch a very luxurious look. The strap is specially designed for the Apple Watch 42/44/45mm and therefore fits seamlessly. This leather strap is also very comfortable on your wrist and is easy to adjust via a sturdy magnetic closure. This means you always have the right size and you can easily adjust it.
Silicone
Silicone is a stretchy synthetic material with excellent weathering and chemical resistance. Silicone Apple Watch bands have a smooth finish, making them comfortable to wear. Silicone is also waterproof and sweat-proof, making it an ideal choice of material for people who like to swim or workout.
However, they may not look as stylish as leather bands. The material of silicone can also attract a lot of dust, so it needs to be cleaned regularly.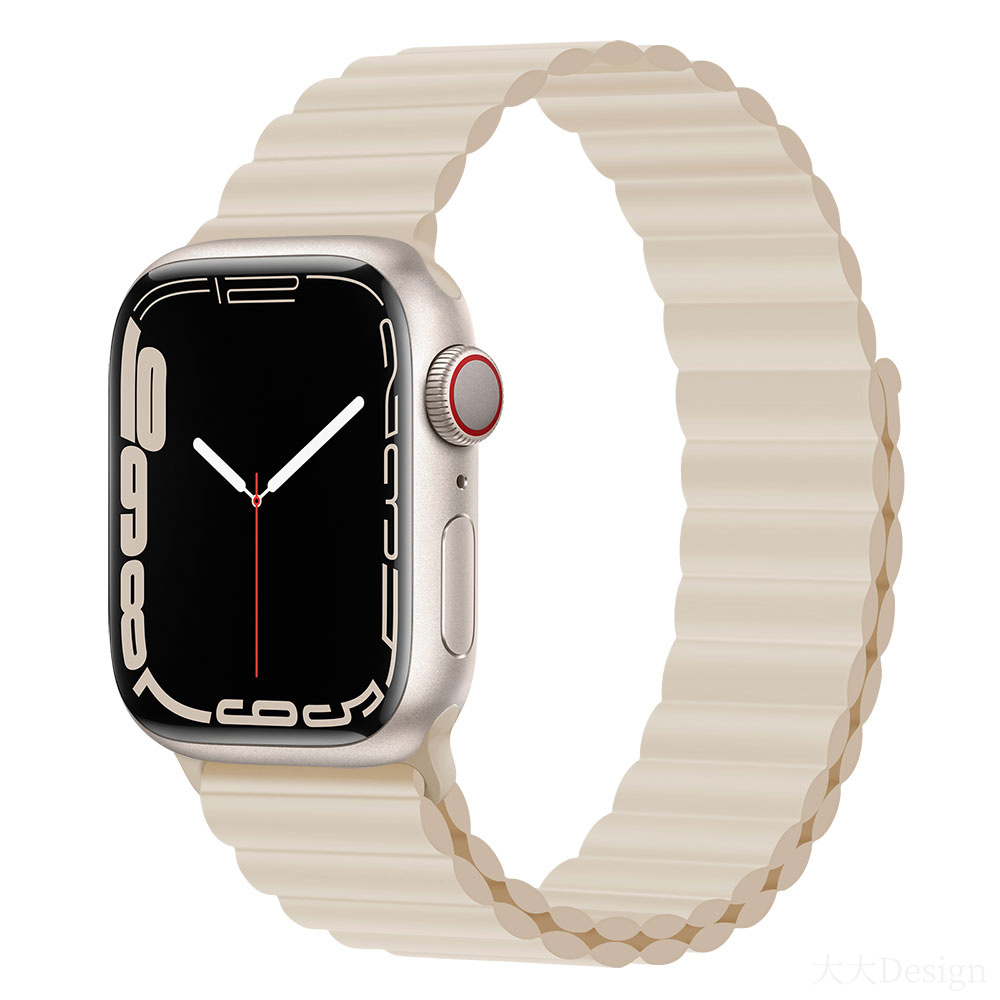 DEVIA DELUXE SERIES SPORT3 MAGNET STRAP 42/44/45MM STARLIGHT
Material Flexible Silicone
Watch strap Apple Watch 42/44/45mm
Comfortable Strap
Skin-friendly
Easy to clean
Magnetic closure
Color Starlight
Devia retail packaging
Fluoroelastomer
Comparing to the silicone watch bands, Fluoroelastomer watch bands are a better choice for people who practice sports. Through daily wear, watches are subject to temperature changes, moisture, magnetism, UV rays, and other types of environmental exposure. Fluoroelastomer is famous for their durability and outstanding resistance. It is not a material that will stretch out easily, get damaged by extreme heats, or get deformed by being excessively sweat on.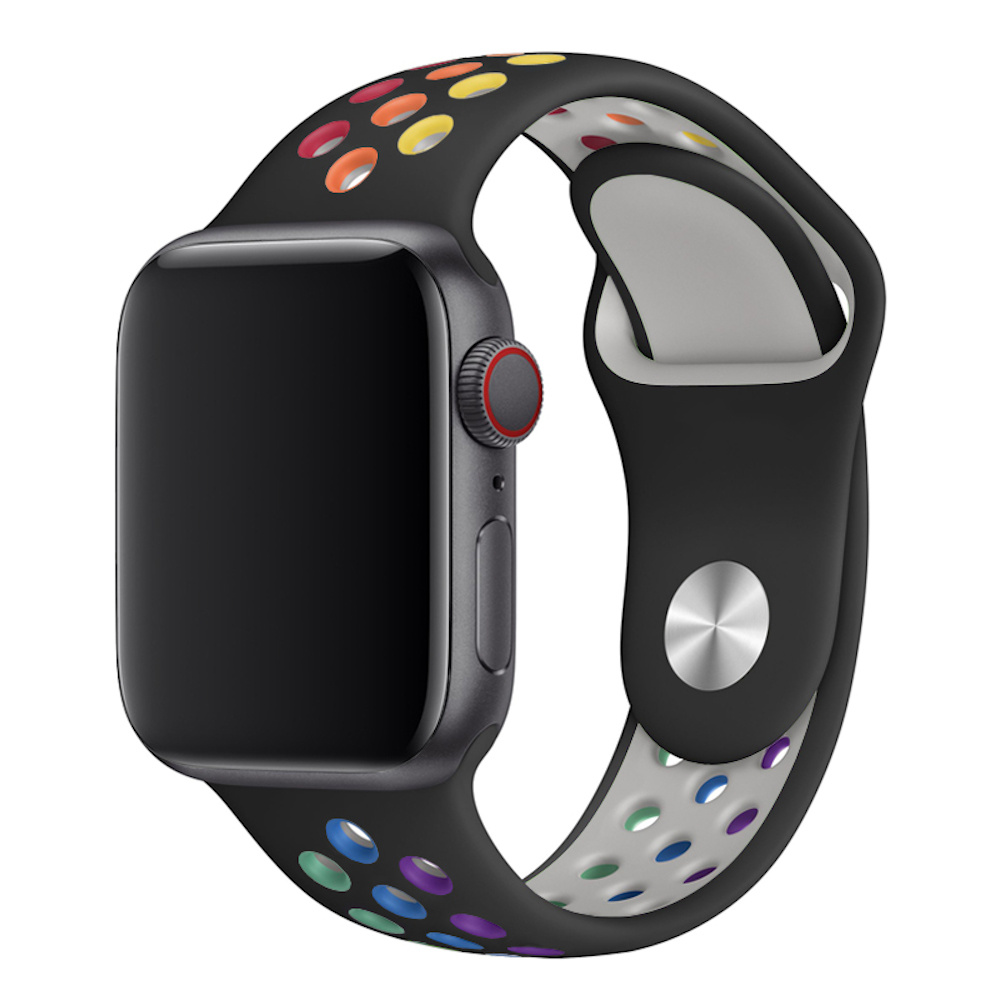 DEVIA APPLE WATCH 38/40/41MM BLACK+RAINBOW SPORT BAND - DELUXE SERIES2 SPORT STRAP
This Apple Watch band is made of special flexible Fluoroelastomer material and matches very nicely with the different colors Apple Watch. The perforated structure ensures that there is more ventilation and this makes exercising with an Apple Watch much more comfortable. The material is very flexible, soft and easy to rinse, making it ideal for sports or just for a sporty look! Straps are available in several colors. Delivery in blister.