Posted on
By Francesca Celano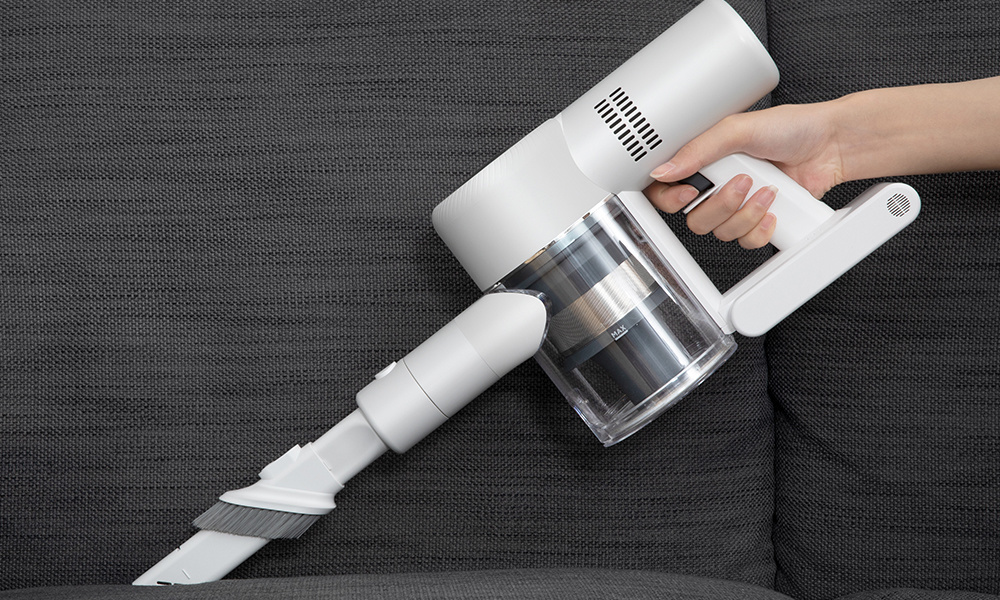 The Dreame V10 is a stick vacuum with the most powerful "Space 3.0 Enhanced Motor" of any Dreame product. This motor produces 16% more power than the V9. It is the finest Dyson vacuum cleaner substitute.
The Dreame V10 vacuum cleaner has a high-end design and comes with standard equipment including numerous essential accessories such as a charging station to fix on the wall and other equipment to assist cleaning all surfaces.
This vacuum cleaner can be configured in 3 distinct modes: "Standard Mode," "Strong Mode" and" Efficient Mode." The vacuum cleaner lasts 60 minutes, 30 minutes or 10 minutes for 1 battery charge according to the settings selected.
The Dreame V10 is almost 17 per cent stronger with an extractor capacity of 140 AW than the V9. An extra benefit: you receive additionally an extension tube with the V10, which in combination with various fittings increases the reach of your vacuum cleaner.
The best alternative for Dyson
Both manufacturers provide high-quality cleaning products. They are outfitted with a variety of accessories and functions, making it difficult to distinguish the variations apart from price.
A larger vacuum cleaner capacity equals greater clean-up, whether you clean yourself or hire someone to do it.
Will run for up to 64 minutes in the lowest setting with non-powered tools
Excellent at picking up surface dirt on hard floors and carpets
Great at cleaning mattresses
Very usable airflow even at the lowest setting
Non-removable battery
Does not have a standard brush roll
Won't deep cleaning carpets as well as a vacuum with a standard brush roll
Performance Dreame V10
Of course, this upright vacuum has a lot of gadgets, but the Dreame V10 is more than just a fancy must-have: it's also a good vacuum cleaner. The vacuum cleaner's motor was designed by Dreame Technology and is known as the "Space 3.0 Turbo Brushless Digital Motor." For the greatest performance, the motor is providing 450W of power and turn at a rate of 100,000 revolutions per minute. The Xiaomi V10 vacuum cleaner is easy to operate and extremely efficient, with a weight of only 1.5 kilograms and a strong suction power: the Xiaomi vacuum cleaner effortlessly sucks up both little dust particles and big debris.
Accessories & attachments
Do you want to purchase the Dreame V10? Then you may expect to receive a slew of useful accessories and attachments. The attachments are very handy for cleaning various sorts of surfaces. You may, for example, vacuum the floor with the ordinary suction nozzle while vacuuming the sofa with a specific attachment. This vacuum cleaner comes with an extension hose to which you can connect numerous attachments, allowing you to effortlessly vacuum your car's dashboard, for example.
5 Reasons you should buy the Dreame V10
Reasonably priced: it's a good alternative if you're looking for something less expensive Dyson V8 Fluffy.
Excellent at cleaning: thoroughly clean hard floors.
Extended run time: It ran for more than 64 minutes
Versatile: It comes with accessories
Great Performance and features: It is very difficult to see the differences with the Dyson vacuum cleaner.
Tools and Attachments
The Dreame V10 comes with seven attachments, giving this cordless tool a lot of versatility.
Soft roller: This is the most important instrument for cleaning floors. It works best on hard surfaces, although it may also be used on carpet, at least for the surface dirt removal. Dreame, like other stick vacuum companies such as Dyson, Tineco, and Shark, has a variety of gadgets at its disposal to clean various areas of the household.
Combination brush/upholstery tool: The combination brush/upholstery tool is useful for picking up heavy detritus such as cheerios or fruit loops.
Flexible hose: It comes with a hose tool that extends the reach of the other tools for cleaning small spaces inside vehicles or homes.
Mini turbo brush: This item is great for cleaning carpet stairs, fabric upholstery, and mattresses.
Extension wand: a device that converts this product from a handheld to a stick vacuum and expands the reach while cleaning high-up places.
Charging/docking: A gadget that attaches to a wall and allows you to keep this vacuum on a vertical plane to conserve space.